Today's Date is
---
Sep 25, 2023
---
"All hail, King Steel,"wrote Andrew Carnegie in a 1901 paean to the monarch of metals, praising it for working"wonders upon the earth" A few decades earlier a British inventor named Henry Bessemer had figured out how to make steel in large quantities, and Carnegie and other industry titans were now producing millions of tons of it each year, to be used for the structural framing of bridges and skyscrapers, the tracks of sprawling railway networks, the ribs and plates of steamship hulls, and a multitude of other applications extending from food cans to road signs.
---
greatachievements.org
Welcome to Hottle & Associates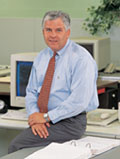 Ken Haver,
President
Welcome to our website, and thank you for allowing us the opportunity to introduce you to our firm.

Hottle & Associates is a full-service, project-oriented engineering, design and drafting firm, located near Akron, Ohio. Our seasoned staff of mechanical engineers, designers and drafters specialize in specialty machine design, industrial design and the design of automated material handling systems. Since 1950, our worldwide project work covers a wide variety of industries, including the Tire & Rubber industry that is so prevalent within our region.
We invite you to review our site to learn a bit about us, and we also encourage you to contact us to discuss how we could be of service to you and your business, earn your trust, and become a long-term, valued resource for your engineering, design and drafting needs.