Today's Date is
---
Jun 04, 2023
---
Windmills used to drive generators, 1920s
Windmills with modified airplane propellers marketed by Parris-Dunn and Jacobs Wind are used to drive 1- to 3- kilowatt DC generators on farms in the U.S. Plains states. At first these provide power for electric lights and power to charge batteries for crystal radio sets, bug later they supply electricity for motor-driven washing machines, refrigerators, freezers and power tools.
---
greatachievements.org
Welcome to Hottle & Associates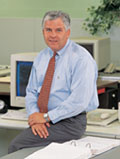 Ken Haver,
President
Welcome to our website, and thank you for allowing us the opportunity to introduce you to our firm.

Hottle & Associates is a full-service, project-oriented engineering, design and drafting firm, located near Akron, Ohio. Our seasoned staff of mechanical engineers, designers and drafters specialize in specialty machine design, industrial design and the design of automated material handling systems. Since 1950, our worldwide project work covers a wide variety of industries, including the Tire & Rubber industry that is so prevalent within our region.
We invite you to review our site to learn a bit about us, and we also encourage you to contact us to discuss how we could be of service to you and your business, earn your trust, and become a long-term, valued resource for your engineering, design and drafting needs.