Today's Date is
---
Apr 23, 2019
---
Big Brutus is the second largest electric shovel in the world. In May 1963, Big Brutus came alive. After taking more than 150 railroad cars and over a year to build, Big Brutus was in operation. Engineers designed the 15,000 horsepower shovel to revitalize the strip-mining industry. It is 16 stories (160 feet) tall and has a boom 150 feet long. At 11 million pounds, Big Brutus' bucket can lift up to 150 tons of coal - enough to fill three railroad cars. It ran 24 hours a day at a maximum speed of 0.22 mile per hour. It used as much electricity in one day as town of 15,000 people. In 1974, Big Brutus had to be shut down because its cost of operation was twice that of the value of coal it recovered.
---
engineergirl.org
Welcome to Hottle & Associates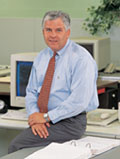 Ken Haver,
President
Welcome to our website, and thank you for allowing us the opportunity to introduce you to our firm.

Hottle & Associates is a full-service, project-oriented engineering, design and drafting firm, located near Akron, Ohio. Our seasoned staff of mechanical engineers, designers and drafters specialize in specialty machine design, industrial design and the design of automated material handling systems. Since 1950, our worldwide project work covers a wide variety of industries, including the Tire & Rubber industry that is so prevalent within our region.
We invite you to review our site to learn a bit about us, and we also encourage you to contact us to discuss how we could be of service to you and your business, earn your trust, and become a long-term, valued resource for your engineering, design and drafting needs.