Today's Date is
---
Aug 17, 2022
---
First home computer is marketed to hobbyists, 1975
The Altair 8800, widely considered the first home computer, is marketed to hobbyists by Micro Instrumentation Telemetry Systems. The build-it-yourself kit doesn't have a keyboard, monitor, or its own programming language; data are input with a series of switches and lights. But it includes an Intel microprocessor and costs less than $400. Seizing an opportunity, fledgling entrepreneurs Bill Gates and Paul Allen propose writing a version of BASIC for the new computer. They start the project by forming a partnership called Microsoft.
---
greatachievements.org
Welcome to Hottle & Associates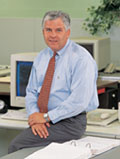 Ken Haver,
President
Welcome to our website, and thank you for allowing us the opportunity to introduce you to our firm.

Hottle & Associates is a full-service, project-oriented engineering, design and drafting firm, located near Akron, Ohio. Our seasoned staff of mechanical engineers, designers and drafters specialize in specialty machine design, industrial design and the design of automated material handling systems. Since 1950, our worldwide project work covers a wide variety of industries, including the Tire & Rubber industry that is so prevalent within our region.
We invite you to review our site to learn a bit about us, and we also encourage you to contact us to discuss how we could be of service to you and your business, earn your trust, and become a long-term, valued resource for your engineering, design and drafting needs.