Today's Date is
---
Jul 02, 2022
---
Kodak Brownie camera, 1900
Eastman introduces the Kodak Brownie camera. Named after popular children's book characters, it sells for $1 and uses film that sells for 15¢ a roll. For the first time, photography is inexpensive and accessible to anyone who wants to take "snapshots." In the first year 150,000 cameras are sold, and many of the first owners are children. In the course of its long production life, the Brownie has more than 175 models; the last one is marketed as late as 1980 in England.
---
greatachievements.org
Welcome to Hottle & Associates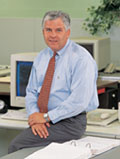 Ken Haver,
President
Welcome to our website, and thank you for allowing us the opportunity to introduce you to our firm.

Hottle & Associates is a full-service, project-oriented engineering, design and drafting firm, located near Akron, Ohio. Our seasoned staff of mechanical engineers, designers and drafters specialize in specialty machine design, industrial design and the design of automated material handling systems. Since 1950, our worldwide project work covers a wide variety of industries, including the Tire & Rubber industry that is so prevalent within our region.
We invite you to review our site to learn a bit about us, and we also encourage you to contact us to discuss how we could be of service to you and your business, earn your trust, and become a long-term, valued resource for your engineering, design and drafting needs.