Today's Date is
---
May 14, 2021
---
In some volcanic areas such as Iceland, the temperature rises beneath the surface of the earth as high as 680 degrees F (360 degrees C) that engineers can tap the geothermal energy by piping hot water from underground to warm nearby homes, offices and factories. An outdoor swimming pool in the Icelandic capital of Reykjavik is heated so effectively by this method that it remains open and in use all year round.
---
- Reader's Digest Book of Facts
funtrivia.com
Welcome to Hottle & Associates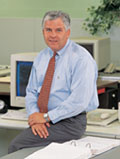 Ken Haver,
President
Welcome to our website, and thank you for allowing us the opportunity to introduce you to our firm.

Hottle & Associates is a full-service, project-oriented engineering, design and drafting firm, located near Akron, Ohio. Our seasoned staff of mechanical engineers, designers and drafters specialize in specialty machine design, industrial design and the design of automated material handling systems. Since 1950, our worldwide project work covers a wide variety of industries, including the Tire & Rubber industry that is so prevalent within our region.
We invite you to review our site to learn a bit about us, and we also encourage you to contact us to discuss how we could be of service to you and your business, earn your trust, and become a long-term, valued resource for your engineering, design and drafting needs.